Afghanistan: 11 Years Too Long
Veterans Say Bring 'Em Home, Keep 'Em Home

On Oct. 7, 2012, as the Afghanistan war enters its 12th year, antiwar veterans and their allies will gather at the Vietnam Veterans Memorial Plaza in New York City at 6 pm to demand an end to all wars and respect for our rights to assemble peacefully here at home. Below is a statement from Vietnam combat veteran Paul Appell about why he is coming to New York on Oct. 7.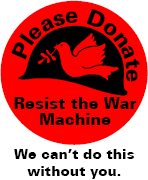 Paul Appell, U.S. Army, Vietnam veteran:
The following are some personal reasons that I will be at the Memorial:
I want to be with Hope's two beautiful daughters that St. Augustine described: Anger and Courage. Anger at the way things are, and Courage to see that they do not remain as they are.
As Auden wrote in one of his poems, I want to keep the enduring flame of hope alive.
Dr. King told John Carlos that he was going back to Memphis despite threats on his life because "I have to go back and stand for those that won't stand for themselves, and I have to go back for those that can't stand for themselves."
I have some friends that were killed in Vietnam that I knew well enough to know that they would want me to stand for them. I want to disrupt the collective unknowing of war by refusing to be the good little boy and be out of sight, out of mind. We may be few, but I truly feel we stand for many that won't stand for themselves because of fear, ignorance, finance, family, employment restrictions, health and other reasons.
Statements from non-veteran allies